« Back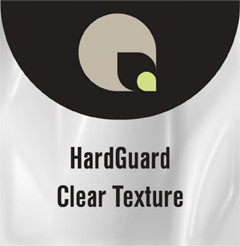 A hard-coat polyester film with a scuff resistant surface that won't scratch or fingerprint.
Excellent for tradeshow graphics
Premium textured lustre finish minimizes glare and reflection while maintaining excellent color saturation.
Features a low melt adhesive system.
Unlike its competitors, HardGuard Clear Texture is a one-piece construction that's free from silvering problems.
Back with HardGuard Light Stopper for a virtually indestructible finished product.
Thickness 5 & 10 mil.
| Catalog # | Width (in) | X | Length (ft) |
| --- | --- | --- | --- |
| 5 mil | | | |
| 0770510 | 25 | X | 250 |
| 0770535 | 38 | X | 250 |
| 0770550 | 51 | X | 250 |
| 10 mil | | | |
| 0770410 | 25 | X | 250 |
| 0770435 | 38 | X | 250 |
| 0770450 | 51 | X | 250 |