« Back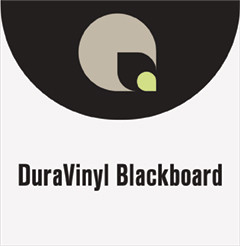 DuraVinyl BlackBoard is a 5 mil vinyl film that is the perfect solution for applications that require a chalkboard finish with either a removable or permanent adhesive.
Blackboard finish
Available with either permanent or removable adhesive.
Removable adhesive is reposistionable and will remove from surface without causing damage.
Can be die cut.
An outstanding choice for a variety of applications including menu boards, retail displays, meeting rooms and school settings.
Specially formulated for digital printing with UV curable inks.
Removable Adhesive
| Catalog # | Width (in) | X | Length (ft) |
| --- | --- | --- | --- |
| 0980130 | 30 | X | 50 |
| 0980161 | 61 | X | 100 |
Permanent Adhesive
| Catalog # | Width (in) | X | Length (ft) |
| --- | --- | --- | --- |
| 0980230 | 30 | X | 50 |
| 0980261 | 61 | X | 100 |