« Back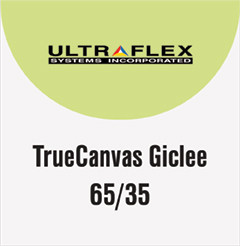 An 11 oz. canvas composed of a 65/35 cotton/polyester blend with an acrylic-gesso top coat.
The gesso coating may be folded and stretched without cracking.
Uniform low-glare finish.
Free of heavy metals
Designed to offer crisp detail and a rich tonal range.
Available in a matte and gloss finish.
Ideal for fine art reproduction as well as various art decor applications.
Compatible with solvent, eco-solvent, UV and Latex inks.
| Gloss Catalog # | Matte Catalog # | Width (in) | X | Length (ft) |
| --- | --- | --- | --- | --- |
| UF-TCGG137035FO | UF-TCGM137035FO | 54 | X | 115 |
| UF-TCGG160035FO | UF-TCGM160035FO | 63 | X | 115 |
| UF-TCGG203035FO | UF-TCGM203035FO | 80 | X | 115 |