« Back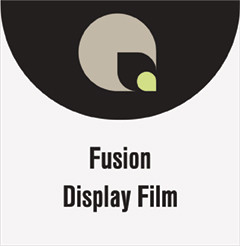 Fusion Display Film is a polyester film with a satin textured surface.
Grayback blockout
Stable and will lay flat.
Textured surface has a PVC print surface
Competivtively priced solution when compared with traditional polyester display films.
Compatible with solvent, UV curable and latex inkjet inks.
Ideal for banner stands, POP displays and signage.
Indoor/ Outdoor
Does not need to be laminated - one step process!
Designed to resist heat from latex printers
Anti slip/static coating provides accurate printer feeding.
9 Mil
---
| Catalog # | Width (in) | X | Length (ft) |
| --- | --- | --- | --- |
| 183609 | 36 | X | 100 |
12 Mil
---
| Catalog # | Width (in) | X | Length (ft) |
| --- | --- | --- | --- |
| 183612 | 36 | X | 100 |
| 184212 | 42 | X | 100 |
| 185012 | 50 | X | 100 |
| 186012 | 60 | x | 100 |