« Back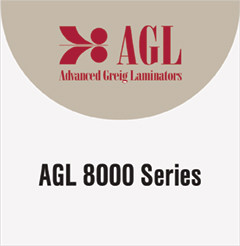 The AGL 8000 Series offers cold mounting, thermal or pressure sensitive laminating and vinyl transfer capabilities.
Laminates up to 79.0" wide with pressure sensitive or thermal
laminating films.
Pneumatic clutch/brake assembly allows precise and repeatable
film tension control.
Operating speeds: 0-20 fpm
Mechanical and photoelectric emergency stops.
12.5" diameter capacity heavy-duty unwind stations.
Available in four models:
8000C (Cold Lamination and Mounting Only)
8000T (Heated Top Nip Roller Only)
8000S (Thermal and Pressure Sensitive Materials)
8000R (Thermal and Pressure Sensitive Materials)