« Back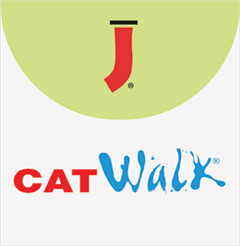 CatWalk™ is a printable anti-slip media which can be used for short and medium term applications.
The textured non-slip surface provides an extremely secure, slip resistant and chemical resistant surface.
The waterproof adhesive remains easily removable, without residue, even after long use.
ASTM D-2047 certified.
Can be used indoor on almost every surfaces such as tiles, marble, concrete, linoleum, porcelain, vinyl.
POP—POS Supermarkets, shopping malls, Fast food, Pharmacies, Museums, Showers, bathtubs, wet areas—even inside pools and Sauna.
Compatible with solvent, UV curable and latex inks.
| Catalog # | Width (in) | X | Length (ft) |
| --- | --- | --- | --- |
| AA-FLOOR01-W-3 | 25 | X | 10 |
| AA-FLOOR01-W-10 | 54 | X | 33 |
| AA-FLOOR01-W | 54 | X | 100 |