« Back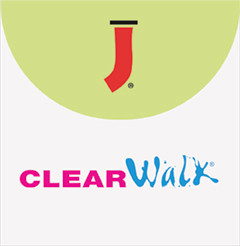 ClearWalk™ is a transparent anti-slip media for short and medium term applications.
The translucent film has a textured, non-slip surface.
The reverse side is coated with a pressure sensitive adhesive which can be applied indoors and remains easily removable without residue, even after long use.
The secure, slip-resistant and chemical resistant surface is extremely foot friendly.
ASTM D-2047 certified.
Will last up to 3 months for indoor or wet area applications
Can be used in pools, showers, or saunas.
Compatible with solvent, UV curable and latex inks.
| Catalog # | Width (in) | X | Length (ft) |
| --- | --- | --- | --- |
| AA-FLOOR01-C-3 | 25 | X | 10 |
| AA-FLOOR01-C-10 | 54 | X | 33 |
| AA-FLOOR01-C | 54 | X | 100 |