« Back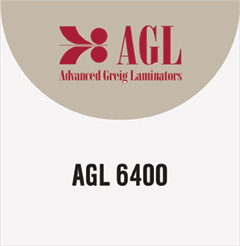 AGL 6400 laminates and mounts a 62.0" wide maximum thermal or pressure sensitive film and features pneumatically actuated nip roller and pull roll assemblies.
Main supply rolls are equipped with a pneumatic clutch/brake assembly. This feature allows precise and repeatable film tension control as well as bi-directional unwind/rewind capabilities.
0-20 fpm operating speeds, mechanical and photoelectric emergency stops
12.5" diameter capacity heavy-duty cantilevered unwind stations
8.0" diameter pneumatically actuated nip roller assembly.
Dual laminating rollers equipped with internal electric heat up to 325⁰F.
Front control panel with forward/reverse, run/stop, heat and tension controls
Remote jog foot switch
Pneumatically controlled nip assembly with a 3.0" nominal opening
Pneumatically controlled pull roll assembly with a 2.375" nominal nip opening
Laminate cooling system.