« Back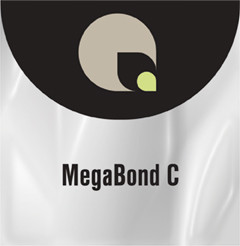 Our most aggressive mounting adhesive. MegaBond C features a high tack rubber adhesive coatedto both sides of a clear polyester film. Suitable for mounting to all graphic arts boards. Our most economical mounting adhesive.
Features a moisture stable polycoated release liner and clear polyester carrier film.
MegaBond C has a unique moderate-tack rubber adhesive that facilitates print positioning.
Offers many of the benefits of InstaBond C, but at a more economical price point.
Less susceptible to heat and moisture.
| Catalog # | Width (in) | X | Length (ft) |
| --- | --- | --- | --- |
| 0471835 | 25 | X | 200 |
| 0471840 | 31 | X | 200 |
| 0471825 | 31 | X | 400 |
| 0471837 | 38 | X | 200 |
| 0471860 | 41 | X | 400 |
| 0471855 | 43 | X | 200 |
| 0471870 | 51 | X | 200 |
| 0471880 | 51 | X | 400 |
| 0471898 | 54 | X | 400 |
| 0471884 | 61 | X | 200 |
| 0471885 | 62 | X | 200 |