« Back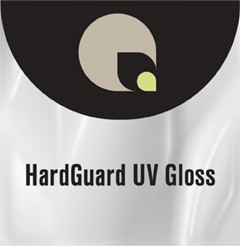 A super-clear, high-gloss polyester film.
For ink jet, plain paper, and photographic prints.
Available in 1.7 mil, 3 mil, 5 mil, and 10 mil
Hard Guard Gloss provides added rigidity and protection from abrasions, moisture, oils, and dirt.
It's suitable for single- or double-sided applications and features a low-melt adhesive system with UV inhibitors.
| Catalog # | Width (in) | X | Length (ft) |
| --- | --- | --- | --- |
| 1.7 Mil | | | |
| 0670100 | 12 | X | 500 |
| 0670120 | 25 | X | 500 |
| 0670135 | 38 | X | 500 |
| 0670140 | 43 | X | 500 |
| 0670150 | 51 | X | 500 |
| 0670160 | 55 | X | 500 |
| 3 Mil | | | |
| 0670200 | 12 | X | 500 |
| 0670218 | 18 | X | 500 |
| 0670220 | 25 | X | 500 |
| 0670235 | 38 | X | 500 |
| 0670240 | 43 | X | 500 |
| 0670250 | 51 | X | 500 |
| 0670260 | 55 | X | 500 |
| 0670280 | 61 | X | 500 |
| 5 Mil | | | |
| 0670312 | 12 | X | 250 |
| 0670318 | 18 | X | 250 |
| 0670310 | 25 | X | 250 |
| 0670325 | 38 | X | 250 |
| 0670330 | 43 | X | 250 |
| 0670340 | 51 | X | 250 |
| 0670360 | 55 | X | 250 |
| 0670380 | 62 | X | 250 |
| 10 Mil | | | |
| 0670412 | 12 | X | 250 |
| 0670418 | 18 | X | 250 |
| 0670410 | 25 | X | 250 |
| 0670425 | 38 | X | 250 |
| 0670430 | 43 | X | 250 |
| 0670440 | 51 | X | 250 |
| 0670460 | 55 | X | 250 |
| 0670480 | 62 | X | 250 |