« Back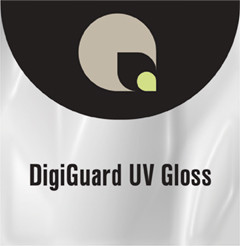 A super-clear, high-gloss polyester film that provides an excellent glossy finish to virtually any output.
Uniquely suited for high-ink coverage prints on photo-gloss paper.
Available in 3 mil, 5 mil, 10 mi and 15 mil
Digi Guard Gloss 5 mil/10mil have a higher adhesive content than Hard Guard allowing for better flexibility and lower cost.
It's perfect for mounting multiple images to a single board, and allows the images to be flush-trimmed or die-cut -- and rolled almost immediately after processing -- without fear of delamination.
It's suitable for single- or double-sided applications and features an ultra low-melt adhesive system and UV inhibitors.
| Catalog # | Width (in) | X | Length (ft) |
| --- | --- | --- | --- |
| 3 Mil | | | |
| 0890220 | 25 | X | 500 |
| 0890235 | 38 | X | 500 |
| 0890240 | 43 | X | 500 |
| 0890250 | 51 | X | 500 |
| 0890260 | 55 | X | 500 |
| 0890280 | 62 | X | 250 |
| 0890290 | 76 | X | 250 |
| 5 Mil | | | |
| 0890310 | 25 | X | 250 |
| 0890325 | 38 | X | 250 |
| 0890330 | 43 | X | 250 |
| 0890340 | 51 | X | 250 |
| 0890360 | 55 | X | 250 |
| 0890380 | 62 | X | 250 |
| 0890390 | 76 | X | 250 |
| 10 Mil | | | |
| 0890410 | 25 | X | 250 |
| 0890425 | 38 | X | 250 |
| 0890430 | 43 | X | 250 |
| 0890440 | 51 | X | 250 |
| 0890460 | 55 | X | 250 |
| 0890480 | 62 | X | 200 |
| 0890490 | 76 | X | 150 |
| 15 Mil | | | |
| 0890910 | 25 | X | 200 |
| 0890925 | 38 | X | 200 |
| 0890930 | 43 | X | 200 |
| 0890940 | 51 | X | 200 |